went to titiwangsa just now. watching gymnastic which performed by the Danish gymnasts from Denmark. yaa, its for my pe class an some kind of my interest too =))
n ya i did enjoy the permomance. worth to see. for RM10 ticket!
they also shown acrobatic balances and some Danish Folk Dance!
the opening
they did well!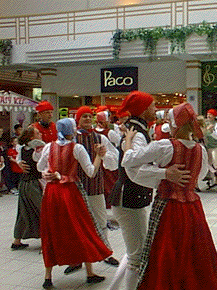 danish folk dance, its fun!
wooa~
he's one of ma fav! ofcoz for his skills!
<
ayay she's a good jumper. lol
kick ass nite
well, i did gymnas back then when i was in foundation. n i did apply gymnas for this sem too but they took me into basketball team. yaa soo right place for me. the pe class and the basketball practice really taking away my evening! i even dont have a time to done my homework, since when i am home.. i just spent all the free time sleeping till the next day come.
i need my brain working fast, faster and speeding through, my body to move fast, and right. my money grow n grow!